For Michigan's restaurants, 9 out of 10 are still understaffed
August 12, 2021
The Michigan Restaurant & Lodging Association (MRLA) recently released the results of a statewide survey, which revealed that nine out of 10 Michigan restaurants and 97% of hotels in the state are not operating with adequate staff, forcing more than 85% of full-service restaurants to close early or spontaneously due to not having enough people to keep things up and running. 
Many restaurants have reported staff quitting mid-shift.
The survey also found that the staffing shortage has impacted bars and nightclubs, 67% of which report operating while inadequately staffed.
So, is it that people don't want to work, or is it that the pandemic has forced workers to reevaluate risk, reward, and their salaries? Throughout 2020, Michiganders hiked up unemployment benefits, and, for many in the hospitality industry, being unemployed was simply more profitable than working. (That increase in unemployment pay is expected to expire on September 4th, by the way.)
The survey findings go along with a major milestone for the U.S. labor force. As of this week, the average pay for restaurant and grocery store workers has reached more than $15 an hour.
Major retail chains like Target, CVS, Best Buy, Costco, and others are paving the way with increased hourly wages, which are expected to become permanent as a result of the pandemic. Franchised restaurants like McDonald's, Taco Bell, and Chipotle are advertising a range of higher wages, some up to $17 an hour with a signing bonus, more substantial benefits, and, in some cases, applicants are paid simply to show up to an interview. And at Target, workers are now eligible to have 100% of their college tuition covered by their employer.
Let's hope our remaining restaurants fully recover. Remember, as a result of the pandemic, it's estimated that 1 in 6 Michigan restaurants have permanently closed.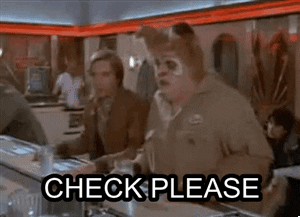 What are your thoughts? How are the restaurants in your town doing these days?
👇👇👇
Connect with us on social media and share your thoughts!
👉 sign up for our weekly newsletter by clicking here👈 and never miss another article!
Lastly, check out this Paycheck Talk Exclusive about what's causing the rising food costs in America
And this article about how a second HUGE bank just got rid of their overdraft fees!
As always, here at Paycheckology we are "Translating the media circus into what matter$"