US manufacturing grows for fifth straight month
October 7, 2020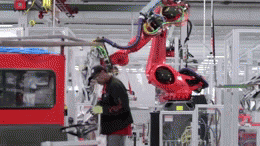 U.S. manufacturing has expanded now for five consecutive months. The Institute for Supply Management (they study/track this kind of stuff) reported that new orders and production grew in September, though at a slower pace compared to earlier years. As a matter of fact, economists have forecast that the U.S. economy will shrink about 4% in 2020. It would be the first annual decline in GDP since a drop of 2.5% in 2009 during the recession triggered by the 2008 financial crisis.
So, even though the national economy might be going through fits and starts to rebound, it's a good sign that manufacturing is continuing to grow because Michigan is strong in this area.
Made in Michigan is our strength!
Make sure to do your part to help the #bounceback and then sign our pledge! 
VOTE FOR YOUR PAYCHECK this November and let's get Michigan (& America) to bounce back! 
Also, be sure to check this status update for how well Michigan is doing right now. You might be surprised by which jobs are strong at the moment ;-)
Lastly, be sure to connect with us on social media and share your thoughts and click here to check out our pledge so #WeBounceBack to a better Michigan!